18 May

2023/24 salary guide across professional services

18 May 2023

Our 2023/24 salary guide and market trends publication is now available and can be downloaded via the link below.

Download the 2023/24 salary guide here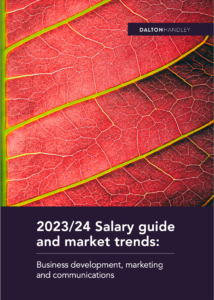 This guide delves deeper into salaries and provides commentary on key market trends for BD, marketing and communications professionals across legal, accounting, consulting and engineering in Australia. We've looked at useful data points across top-tier, mid-tier and global firms, including a comparison of the big eight (Big 8) law firms with the rest.
Professional services firms have performed strongly during turbulent times and salaries across all levels have increased. Salary bandings within some firms have increased by up to 30% within the past two years. Overall, salaries in the legal market have increased 10.7% (on average) year on year.
Contact us for a confidential discussion
This guide will be of interest to hiring managers and BD professionals looking for salary advice. Contact a member of the Dalton Handley team for a confidential discussion and expert advice on how this salary guide can benefit you. Email: australia@daltonhandley.com or phone: +61 2 8042 7970.