18 Mar

Marketing Manager | Global role with international alliance of law firms | Sydney

Location: Sydney | Job ID: 835036
6 -12 month contract or permanent
Drive brand profile globally
Part-time or full-time working options available
Our client is a closely knit alliance of specialist law firms; leaders in their field across four key jurisdictions including Australia and the UK. Underpinned by a group of premium member firm brands, the global alliance is a highly compelling offering to take to market.
An opportunity has arisen for a talented marketing manager to set the strategy centrally for the Alliances website, brand and marcomms program, working with the existing marketing teams in the member firms to channel their collateral through the website, drive traffic to it and generate contacts and opportunities from it.
Reporting to a highly regarded leader in Australia, the Marketing Manager will lead for "on-boarding" any new members into the network to ensure consistency in their branding, website protocols and marcomms. The Marketing Manager will also need to liaise with any existing agencies/contractors of the firms where necessary., and will also produce a monthly report to stakeholders on the activities and results of the marketing programme and proposals around priorities and investment areas.
Role responsibilities
Core responsibilities
Ensure the brand is consistently articulated through all external marcomms channels and relevant collateral
Develop and share key brand messages internally and externally
Develop the profile, structure and functionality of the website to ensure it is best in class
Ensure the web site drives traffic to/from the LG own firms websites that is measurable and captures/tracks opportunities
Coordinate a programme of thought leadership and campaign activity through the website
Be the champion of social media, primarily through the website and through LinkedIn and Twitter channels
Increase the connections for agreed attorneys and areas of expertise
Role requirements
Have experience of working in the insurance industry and/or legal services in a senior marketing role
Have worked in an international business environment developing website and marcomms activity
Be a self-motivated professional who can hit the ground running
Have strong communication skills and quickly build a (virtual) network across all firms and with internal stakeholders
Be highly credible with the ability to influence, challenge and coach colleagues
For more information, please contact Charles Handley on +61 2 8042 7970 or email your CV to charles@daltonhandley.com.
Dalton Handley is an international recruitment company dedicated to sourcing business development, marketing and communications talent for professional services firms across Australia with key alliance partner recruitment companies in Asia and the United Kingdom. For more information visit www.daltonhandley.com.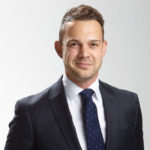 Charles Handley
Director
Australia
D: +61 2 8042 7970